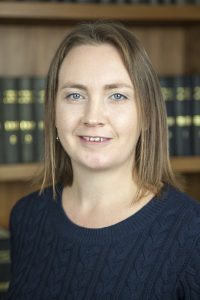 Charlotte joined Exeter Law School as an Associate Lecturer in 2014 and was promoted to Lecturer (Education and Research) in 2016. Charlotte was awarded her doctorate from Exeter University in 2014 for her thesis entitled: "The Limitations of the Legal Response to Domestic Violence in England and Wales: A Critical Analysis." This research identified domestic violence as a social problem with its roots in systems of male dominance and the gender inequality which persists at a broader cultural and societal level, and emphasised the need for the legal system to take a gendered approach whereby domestic violence is understood as being functional in male-dominated societies as a means of maintaining male power and control over women. Bringing together critiques of the operation of the civil and criminal justice system in this context with the possibilities and limitations of the international human rights system, Charlotte's thesis demonstrated not just how the legal responses pertaining to domestic violence are limited, but also why, concluding that a legal approach problem which overlooks the root causes and over-emphasises isolated incidents of mainly physical violence does not and cannot work; the causes and impacts of domestic violence must be understood and addressed at a society-wide level.
Research Interests
Charlotte's research interests are broad and interdisciplinary, crossing the boundaries of socio-legal research into psychology, sociology, philosophy and criminology. Her recent research has focused on how the harm of domestic violence, including controlling and coercive behaviour, could be more effectively evidenced in criminal court proceedings, as well as how courtroom participation could be made safer and more effective for witnesses who are also a victim of domestic violence. Charlotte's research takes a gendered approach to the issue of domestic violence and much of her work is based upon the insufficiently recognised link between ongoing abuse and trauma. Charlotte is currently in the early stages of a research project looking at the role of legal education in reproducing the masculine bias of the law in a broad sense, as well as the discrimination inherent in the legal profession itself and ways in which education could be used to challenge this bias rather than bolster it.
Select Outputs
C. Bishop. "Safe and Effective Courtroom Participation for Domestic Violence Complainant-Witnesses." In Criminal Law Reform Now: Proposals and Critique, edited by J. Child and R. Duff. Hart Publishing, 2018.
C. Bishop and V. Bettinson. "Evidencing domestic violence*, including behaviour that falls under the new offence of 'controlling or coercive behaviour'." The International Journal of Evidence & Proof  (2017). DOI.
C. Bishop. "Domestic Violence: the Limitations of a Legal Response." In Domestic Violence: Interdisciplinary Perspectives on Protection, Prevention and Intervention, edited by S. Hilder and V. Bettinson. Palgrave, 2016.
C. Bishop and V. Bettinson. "Is the creation of a discrete offence of coercive control necessary to combat domestic violence?" Northern Ireland Legal Quarterly 66, no. 2 (2015): 179–197.
Select Conference Appearances
"Vulnerable, Intimidated and Traumatised: Protections for Domestic Violence Complainant-Witnesses," Criminal Law Reform Now, University of Sussex, UK, 13-15 September 2016.
"Intimidated, Vulnerable and Traumatised: Protections and Special Measures for Domestic Violence Complainant-Witnesses," Sexual Violence and Domestic Violence Research Network Conference, De Montfort University, UK, 11 November 2016.
"Safe and Effective Participation for Domestic Violence Complainant-Witnesses: A Trauma-Informed Approach," SLSA Annual Conference, University of Newcastle, UK, 5-7 April 2017.
"Domestic Violence: The need for a Gendered Approach," The United Nation's 16 Days of Activism against Gender-Based Violence Conference, Queen's University Belfast, UK, 13 December 2017.
Select Media Appearances
C. Bishop. "Why it's so hard to prosecute cases of coercive or controlling behaviour," The Conversation, 31 October 2016.
C. Bishop. "A Domestic Violence And Abuse Act: Necessary Step Or Unwelcome Distraction?," Huffington Post, 8 March 2017.
"Domestic Violence: Interdisciplinary Perspectives on Protection, Prevention and Intervention," edited by Sarah Hilder and Vanessa Bettinson
Email Charlotte | Visit Charlotte's University of Exeter Law School Profile